The drying cycle time is approximately ten percent shorter.
Author:admin Date: 2023-08-20
The performance of the system is directly related to the quality of the motion sequence. ENGEL has introduced the iQ motion control, a smart assistance system that optimizes acceleration phases for faster movements. Initially implemented for viper linear robots, it is now being introduced for injection molding machines at K 2022. This technology can greatly reduce cycle times and offer a competitive advantage, especially in high-performance applications.
In high-speed applications, the duration of the injection molding machine's mold opening and closing plays a crucial role in the overall cycle time. Similar to a robot arm, the moving mold mounting platen of the injection molding machine undergoes a series of individual motion points instead of a simple open-and-close motion. These points divide the movement into different phases, and this is where optimization becomes essential. ENGEL's iQ motion control software calculates the ideal acceleration for each phase based on the specific machine settings, enabling precise optimization for improved performance.

GETTING A QUOTE WITH LK-MOULD IS FREE AND SIMPLE.
TRY IT TODAY :
FIND MORE OF OUR SERVICES: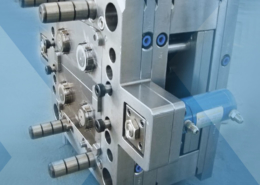 Injection moulding parts and injection tools. Full solutions from design to production.